We designed and developed a beautiful yet powerful website for MW Real Estate Co.
MW Real Estate Co. needed to establish a digital presence as they opened the doors of thier new urban-core real estate brokerage. We designed a comprehensive, mobile-ready solution that is gorgeous on the front-end and feautre-rich on the back-end. We integrated an IDX system to provide visitors with access to real-time MLS home listings through easy-to-use tools like advanced search fields and an interactive property map. We also created an expandable framework for individual agent pages, allowing the website to grow as the brokerage grows. Icing on the cake, we developed a system that allows each individual agent to interact with thier clients and track thier home search behavior, putting powerful, usefull insight at thier fingertips.
Client
MW Real Estate Co.
Industry
Real Estate
How We Helped
Website Design, IDX Integration, Lead Generation, SEO Optimization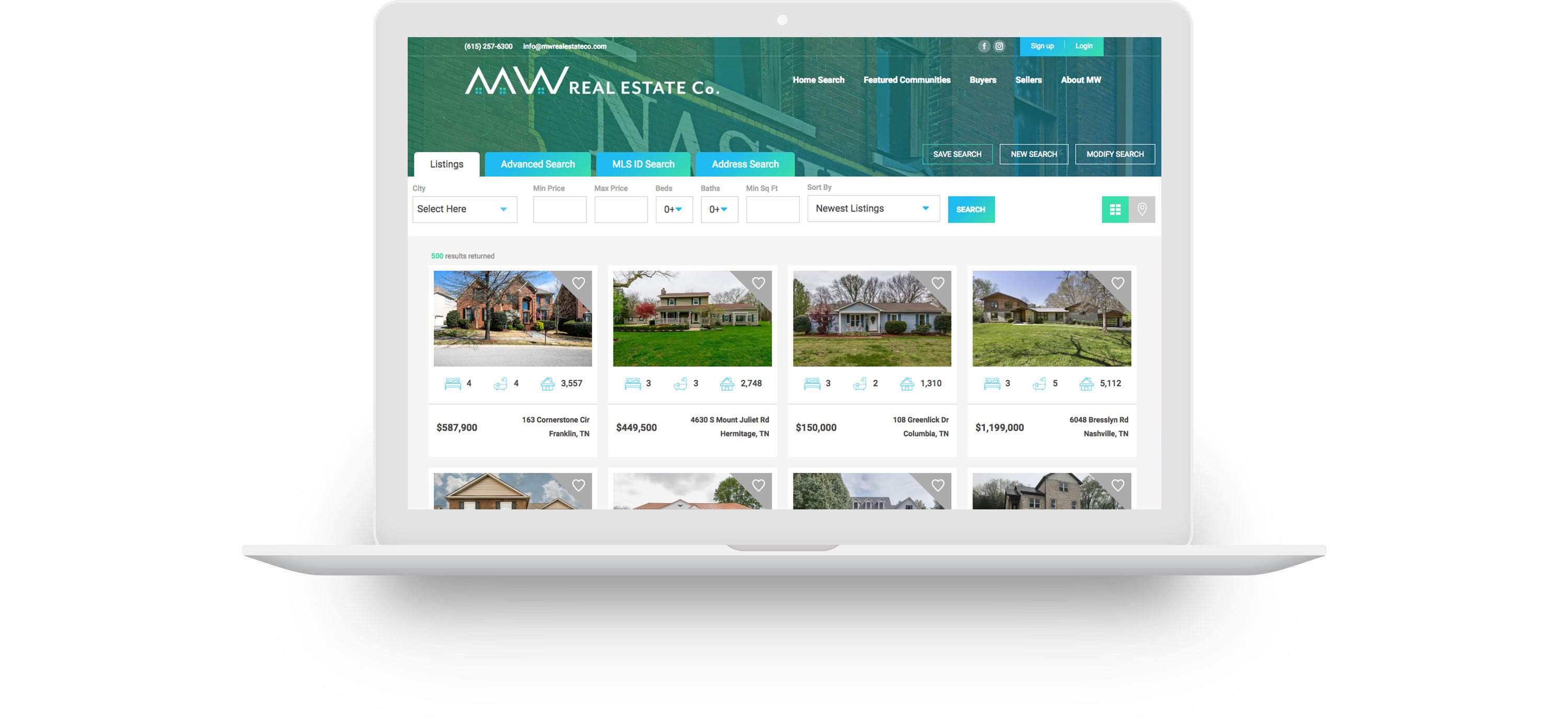 The Core Of Success
---
The MW REal Estate Co. team knows urban-core Nashville. They needed a website that would not only spotlight thier unique vision, but also support thier agents with tools to succeed. We delivered a 360 solution that propels the MW brand, helps thier clients find the right home, and provides their agents with a platform to work smarter, not harder.
We've been operating businesses in Nashville for the past 7 years. Our experience with web design and integration have been tenuous at best. Not so with Rudder. From our initial meeting, to the followups to the design pace to the deliverables, everything was as advertised and the final product is impecable. John and his team really go out of the way to offer updates to the site, as well as provide us with ongoing support. Unlike other web developers, Rudder listens to what its customers want, and produces that thing. They made what could have been a year long process a simple few months, simply by listening and delivering based on those requests. Our team really can't say enough about our experiences with Rudder Creative.